Decideware is proud to be an inaugural Premier Sponsor of Forge: Marketing - Global Marketing Procurement's newest marquee annual event;
Thursday, October 29th 10-5pm EDT (Live Virtual Conference)
The full day agenda features a range of important topics and expert practitioners representing brands, including AbInBev, AstraZeneca, Nestle, Novo Nordisk, Teva, Truist, Visa and many others in addition to seasoned industry advisors Laura Forcetti at the WFA and Tina Fegent.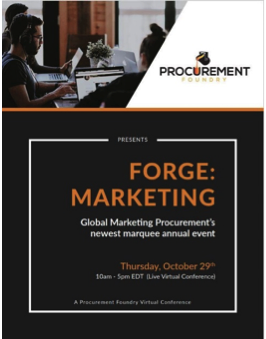 Produced by the Procurement Foundry, we welcome the addition of opportunities for marketing procurement practitioners to learn and connect.
Visit the conference website below.

When Advertisers Want Enterprise, they Upgrade with Decid
eware.