Decideware's Enterprise Agency Management Platform provides advertisers the ability to obtain, track, and report various components of Diversity Equity & Inclusion (DE&I) with their agency partners. Decideware's modules enable advertisers to collect various components of DE&I that can be used to measure performance against key objectives.
How are clients using Decideware to address their Diversity Equity & Inclusion DE&I objectives?

Scope Manager

Advertisers identify the diversity classification(s) of their agencies when they are initially set up in the Decideware system. Decideware provides the flexibility to segment agencies based on the status of the company ownership. Some of the more common classifications are small business, minority-owned, veteran-owned, disability-owned, woman-owned, and LGBTQ+ owned. Clients have the ability to project their expected diversity spend for the year, track budget vs. actual, and conduct a full range of analytics with dashboards based on Scope of Work data.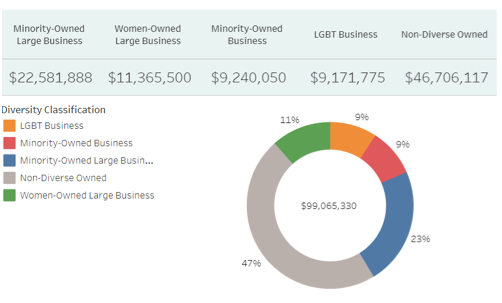 Evaluation Manager

Advertisers are encouraging their agency partners to embrace similar diversity ideals to their own and using Decideware's Evaluation Manager software to conduct surveys with their agencies to understand the diversity make up of the company and/or the creative teams working on their business. Advertisers are also tracking the hiring, promotion, and departure trends occurring within the agencies. The goal isn't to penalize agencies, but rather to raise the level of awareness and use the information to support and partner with agencies on their DE&I efforts.



Production Manager


Advertisers use Production Manager to govern their shoot productions. The software enables clients to capture the diversity ownership of the suppliers used for the shoot and the spend with third-party suppliers that are diverse, also referred to as Tier 2 spend.
"Diversity, equity, and inclusion are not buzzwords or a trend. While it is clear that diversity is more visible at the moment, approaching this as a "check-the-box" problem to be addressed will not generate the desired results. When an organization decides to pursue programming in this space, it is critical to build with the intent of understand, learn, and change."
Damian Branch, Associate Director of Professional Services, Decideware
The advertisers are not only holding themselves accountable but are working collaboratively with their agency partners to encourage and support Diversity Equity & Inclusion (DE&I). They are incorporating the Diversity Equity & InclusionDE&I information into their automated agency management programs to provide a more robust, comprehensive picture of their agency landscape. The Decideware Business Intelligence team helps clients customize dashboards and reports that track progress against goals and identify trends & outliers.
Decideware is proud to support advertisers and agencies to enable and grow their DE&I programs to achieve significant benefits.
To learn more, contact:
Robin Seasock, COO at rseasock@decideware.com
Damian Branch, Associate Director of Professional Services at dbranch@decideware.com.