The Decideware Advertising Management Scholarship at MSU.
Decideware is pleased to announce a new scholarship fund has been established with the Department of Advertising and Public Relationships in the College of Communication Arts and Sciences, Michigan State University (MSU), ie the Decideware Advertising Management Scholarship.
And we are now delighted to recognise Brandon Crawford and Isabel Perhogan as the deserved recipients of the (inaugural) 2020 awards.
"We are excited to make this gift available to passionate and deserving students interested in pursuing careers in marketing," shares Robin Seasock, Decideware's Account Director.
Decideware worked in collaboration with Greg Taucher to establish this scholarship fund. Greg serves in in an advisory role for Decideware and is a 30+ year veteran of the agency world with DDB Worldwide. He became a Professor of Practice in the Advertising & Public Relations Department at MSU in 2016 and was named the Hopp Faculty Fellow Professor of Practice in 2019.
According to Greg, "Both have taken the management class, and passed the '42 North' financial project gauntlet - scope of work/agency fee + the annual agency P&L forecast - with flying colors. Both are good students with a solid work ethic, and have a lot of passion for the marketing communications agency business."
Please join us in congratulating Brandon and Isabel - our first scholarship award recipients.
About MSU
Michigan State University has been advancing the common good with uncommon will for more than 160 years. One of the top research universities in the world, MSU pushes the boundaries of discovery and forges enduring partnerships to solve the most pressing global challenges while providing life-changing opportunities to a diverse and inclusive academic community.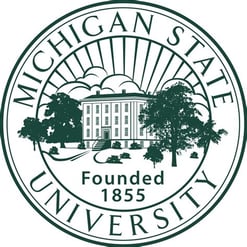 About Decideware
Decideware is the leading provider of agency management software used by global advertisers.
Marketing and Procurement teams of large advertisers rely on Decideware software to get the most out of agency partnerships. Advertisers benefit from the business intelligence to optimize agency management and inform marketing strategies as well as process efficiencies and working capital generation.
Built for advertisers and supported with deep expertise, Decideware provides the scale, power and flexibility needed to engage stakeholders in agency optimization programs.
To learn more go to www.decideware.com.