Coleman Raymond discusses her role in transforming IHG's Agency Strategy and Operations Practices
Partner Contribution: Coleman Raymond. Courtesy of InterContinental Hotels Group
Changing the future course of something can be a daunting task under the best of circumstances. Attempting to alter a corporate process or way of working that affects hundreds of people, both inside a global organization and externally with strategic partners, can be virtually impossible. But that's the exact task InterContinental Hotels Group (IHG) set when founding its Agency Strategy and Operations team in its Atlanta office in 2018.
For Coleman Raymond, the chance to help tackle this difficult task seemed more like an opportunity.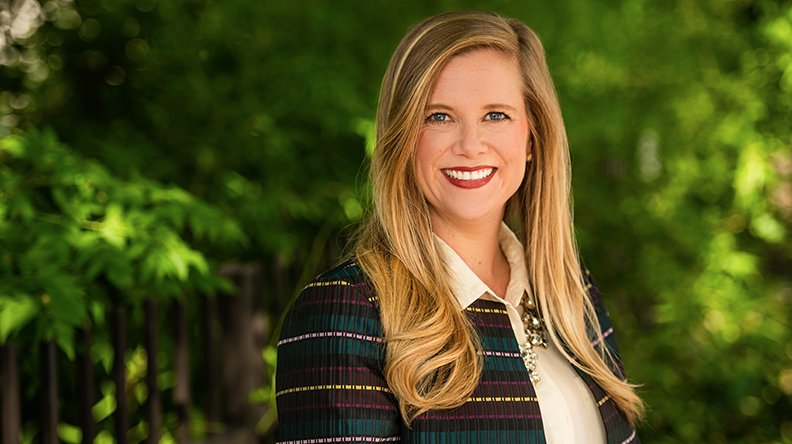 "I saw a job posting for an Agency Strategy and Operations role at IHG and, to be honest, I had never heard of that function or role," Raymond recalls. "I had been considering going client-side, but I was worried that my lack of a master's degree would hold me back."
With a bachelor's degree from Washington and Lee University, Raymond began her career on the agency side of the industry with stints at BBDO in New York, as well as JWT and Mower in Atlanta.
"I've had the privilege of working with clients like P&G, where I worked on brands like Gillette, Venus, and TAOS. I also worked on Pennzoil and with several B2B clients like GP Pro, Westrock, and Carestream Dental," she notes. "This role [at IHG] seemed like the perfect way into the client-side of the industry, so I submitted my résumé, and the process went pretty smoothly from there."
Hired by IHG in August 2018, Raymond, who is the manager of agency strategy at the hotelier, is part of a team that is responsible for facilitating relationships with all of IHG's marketing agencies. That includes how the agency model is structured, who is on the roster, how they are paid, how their performance is evaluated, and managing the overall health of the IHG-agency relationship.
Here, Coleman, who is currently pursuing an MBA at the University of Georgia, talks about everything that has changed since she joined IHG.
Q. Talk a bit about the state of agency management and of the agency relationships when you first got to IHG.
IHG had recently centralized Global Marketing which allowed the company to have more transparency across our global marketing agency relationships and develop a model that was more efficient and effective for IHG. The new organizational structure enabled IHG to stand up an Agency Strategy and Operations function, and it was such a great opportunity to come in at the ground floor and help lay the foundation. My director was the first team member to sign on in June of 2018, and I was brought on in August of that year. The rest of the team was in place by the fall.
Previously, individual teams managed their agency relationships independently. An early audit identified operational and financial opportunities to be more consistent in how we managed those relationships and leveraged our scale to help improve efficiency. We quickly identified a need for visibility across agency spend at a global level as our existing systems did not provide the level of detail and transparency we required.
We also identified an opportunity to create a consistent "IHG way" of engaging agencies versus our previously fragmented approach. There were some clearly defined opportunities for better consistency and transparency with our agency spend.
Another opportunity that was identified was consistency in the SOW template. Few partners were using the IHG template, and there was little consistency to the terms and conditions, structure, staffing plans, breakdown of fees etc., within the individual scopes. We did not have a centralized repository of SOWs, so getting this data was a manual exercise.
Q. As you and your leadership team set out to improve the agency management process, what was the overall goal of this transformation?
Agency Strategy and Operation's goal was to establish a new agency model and "Ways of Working," in order to improve in four key areas of our overall agency relationships, ultimately resulting in more efficient and effective campaigns.
1. Partnership. Best-in-class specialist agencies, holistic media planning relationship, and a centralized managed content studio.
2. Governance. Centralized budget management, scope of work templates, tracking, and reporting.
3. Excellence. Streamline agency management with better briefing templates, on-boarding, and transition playbooks with overall process improvement.
4. Performance. IHG-led, 360-view of the overall agency relationship, including opportunities and a holistic action planning process.
My personal focus was on the governance goal and establishing a financial management process that would streamline and standardize the scope of work development and approval process while providing full transparency and tracking of our total marketing agency investment.
Q. Where did you start?
Senior leadership desired to understand how we were investing money with our agency partners in order to improve agility and optimize our investments, including strengthening working/non-working investment ratio.
After gaining an understanding of our software provider options, we met with key stakeholders inside IHG and key agency partners. We wanted to understand the requirements that each stakeholder group had for the new solution, process, and ways of working. This included the following departments and key stakeholder groups:
Legal and procurement. We wanted to understand firewalls, privacy concerns, and process requirements while establishing appropriate SOW terms and conditions that referenced standard master service agreement language.
Finance. We needed to ensure the DOA [delegation of authority] was followed with regard to approvals and how any new system or process would interact with our payment and PO system.
Paid media/campaign marketing/PR. They wanted a tool that would help them develop better scopes and get the approval of SOWs faster. Demonstrating how the new process would expedite the scope development and approval workflow, as well as provide access to real-time data, allowing for more efficient scope negotiations, was critically important.
Agency partners. Agencies similarly wanted to ensure that any new tool or process would decrease SOW development complexity; they were additionally concerned about data privacy and potential benchmarking. It was very important to the agency partners that IHG select a software solution and associated advisory partner that would not use any data for external or benchmarking purposes. We had the appropriate conversations with our agencies to help them understand the efficiencies of our new process and the assurances that IHG would own the data so the software and advisory partner couldn't use the data for their own or other clients' benefit.
Marketing products. We then looked at our other marketing tools to determine if any of the existing tools could meet our needs. If we used a new tool, we needed to understand how it would interact with our other marketing tools and what level of tracking would be available.
Based on understanding of all needs, we partnered with our procurement team to develop and issue an RFI/RFP for a software solution and complimentary advisory services that could assist us with the governance goal.
In October of 2018, we presented the completed business case to our SVP, who saw the benefits of the recommended new solution and associated process and provided approval to move forward. Ensuring senior-level leadership support for a project like this is critical to its success. Without senior-level buy-in, any major "change" is going to be as difficult as trying to push a boulder up a mountain.
In November of 2018, we selected the partner. We knew the process and associated software to support it needed to be intuitive yet powerful enough to provide IHG with the governance we were looking for. The system needed to enable IHG to track all agency spend by brand, region, agency, holding company, scope type, PO, and more. We felt we found the right solution, so we executed the MSA [master service agreement] and began the implementation. Our goal was to kick off the initial process in January of 2019 and be live in North America by March 1. It was an aggressive timeline, but we knew it was achievable.
Q. An initiative like this must require a ton of communication. How did you handle that in order to gain buy-in from internal stakeholders and external partners?
We achieved our goal and launched the new scoping process in our Americas region by the first week of March — it took us 60 days to implement versus the standard 90 — and we launched the rest of the globe by June.
With each new region launching on the platform, we held two trainings a day for two weeks. This allowed everyone to have an opportunity to learn the new software and associated process. We worked with our partner to develop the training materials, content for our Agency Strategy and Operations SharePoint site, how-to videos, and step-by-step guides to the overall process.
Of course, some people were not able to attend one of the training sessions or had questions after training, so we set up regular "Agency Strategy office hours." This also provided a great resource for new hires and new agencies, as they could take advantage of the office hours to get up to speed on the new process.
For our marketing stakeholders, we attended their regular, all-team meetings. This gave the Agency Strategy and Operations team the opportunity to highlight the new process and provide any personal team training required.
Overall, the adoption of the new tool and process has gone very well, and it's a direct result of ensuring that everyone knows what their individual responsibilities are within the overall new ways of working.
Q. How have things progressed since launch?
Since our launch, we've trained over 350 IHG members and over 250 individual agency users on the new system and ways of working. We currently have almost all of our agency scopes of work in the new tool. As we find outliers or partners that aren't in the tool, we work to get them on-boarded trained and using the system as quickly as we can.
We are now working on integrating our marketing resource management system with the scope manager system to further improve the efficiency of the overall marketing process. This will ultimately help IHG market more efficiently and effectively and provide visibility in agency initiatives.
Q. What results have you seen so far?
The response to the new process has been great, especially for senior leaders. The process is smoother, POs are getting opened and approved faster, the burden has been taken of our internal stakeholders for chasing legal and procurement for wet signatures and approvals, and there is robust backend reporting.
Of course, there were some bumps along the way as expected. I mentioned at the beginning that teams had their own way of doing things and weren't used to having a third party like Agency Strategy and Operations being involved. However, getting support from senior leadership was the key to getting the new scope manager process launched successfully.
For many stakeholders, the simplification of SOW development and approvals and the tracking and transparency were compelling. Simple things, like being able to pull spend with each of our agencies globally within minutes is one example of how this new process is meeting the governance goals.
Another benefit was getting support from finance. When they understood that we could standardize our terms and conditions and rate cards while tracking approvals along proper DOA, they were able to expedite the approval workflow in our payment tool. This allowed our stakeholders to get POs opened in record time.
We did not have initial benchmarks for the improvement in the time it takes for a scope to be created and approved. From my personal experience, it could take over a month to get a scope developed, approved, and a PO cut.
Right now, our scoping system is tracking the process to be about two weeks and the associated POs are being opened within 24 to 48 hours. That is a 50 percent reduction!
Q. It sounds like the benefits have proven it all worthwhile, especially for the governance goal.
Change can be hard, especially when it affects over 600 stakeholders. However, when the right partner is involved, with shared goals and best-in-class tools — and having the support of senior leadership — that change can transform an organization for success.
Steven Wales is the chief revenue officer at Decideware, a partner in the ANA Thought Leadership Program.
You can email Steven at swales@decideware.com
Article originally published at ANA Forward here.