On Tuesday, April 25th, the World Federation of Advertisers heads to Toronto for Global Marketer Week - days of inspiration, discovery and learning. Steven Wales, CRO of Decideware, will attend the meeting representing WFA's Strategic Partner for Efficiency.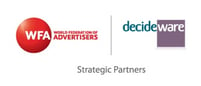 The WFA Global Marketer Week is a tremendous opportunity for over 500 of the world's top marketers to network with one another at this annual event for multinational brands. Some of the most iconic brand names including The Coca-Cola Company, Mastercard, Mattel and eBay are slated to speak at this conference, where they will share insights into how they have built their brands, where they have found their inspiration and how they have overcome challenges.
Decideware has enjoyed a longstanding, engaging and productive relationship with the WFA. As a WFA Strategic Partner, Decideware works in the priority area of EFFICIENCY.

In this role, we collaborate with the WFA to provide ongoing thought leadership materials and to ensure their members gain access to best practice information on agency lifecycle management practices.