Decideware, in partnership with the World Federation of Advertiser, will present "Agency Evaluation: Results from a 2017 Joint Survey" on September 21st at 10:00 am EST.
Richard Benyon, CEO, Decideware, will share results from the latest WFA survey which sought to understand the process, mechanics, engagement and effectiveness of agency evaluation programs. The survey looked at trends in managing and evaluating agency performance, including the common metrics, the ways they relate back to remuneration and how to foster fruitful and collaborative partnerships.
Key findings from the survey showed CMOs are directly involved in providing feedback on their agencies in 30% of agency evaluations and that media is now the most evaluated agency discipline, bumping creative out of the top spot.
For additional information and to register for the webinar, visit: https://wfa.adobeconnect.com/agencyevaluation2017/event/registration.html
--------------------------------------------------------------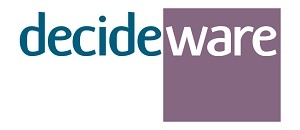 Decideware's Agency Management Solutions provides many of the world's best marketing & procurement practitioners in large advertisers with the industry's best solutions for agency selections, agency evaluations, agency briefings, production management and agency scope of work programs.