ProcureCon Marketing, held in Los Angeles from November 14-16, 2016, provided attendees with significant opportunities to understand how their colleagues have designed and implemented best-in-class agency Scope of Work programs.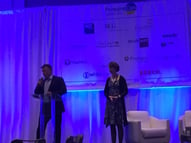 Speakers included Nicholas Kline, Strategic Sourcing Manager, Toyota Motor Sales and Diane Gibbons, Director, Global Procurement, Pfizer Inc.
Diane (expressing her own personal views) spoke about how Pfizer has applied a data-driven decision making process in marketing procurement.
Diane also spoke about the evolution of their marketing program in order to coordinate components such as senior leadership endorsement, a technology platform, process standardization, process compliance and data expertise to achieve some very significant results, which include the identification of savings and inefficiencies.
This year's conference saw many first time attendees, a number of whom participated in Diane's "Ask the Speaker" roundtable discussion to learn how advertisers can design and implement a class-leading agency scope of work program.
-------------------------------------------------
Agency Scope of Work programs are typically designed to meet various stakeholders' needs including, for example:
For Marketing – to optimize the spend available for marketers to build brands
For Agencies – to complete scope approvals more quickly and to improve agency cash flow
For Marketing Procurement - to improve scope accuracy, to decrease process inefficiencies and to identify unnecessary costs
--------------------------------------------------------------
Decideware works with major advertisers to provide
Agency Management Solutions
- including software and services to design and implement Agency Scope of Work programs. Decideware's Scope Manager has been adopted by Top 100 Advertisers and members of the ANA and the WFA.