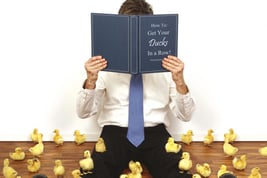 Using Agency Management to Make Interactions With Creative Shops Smoother, More Productive
This interesting article recently published by Advertising Age discusses two presentations made at the 2015 ANA Financial Management Conference by Diageo's Marc Strachan and American Express Co.'s Eve Reiter to improve the overall relationship with between creative agency procurement and management.
Image above was provided with thanks to the AdAge Article
The article outlines key strategies that Mr. Strachan and Ms. Reiter overviewed in their presentations which can improve procurement and management's working relationship. Here are just a few key points discussed in the article:
Develop a Sound Assignment Briefing Strategy

Ensuring that your brief is strong and thorough will not only not waste agency time, but will also improve overall communication and project goals. Briefing templates, senior management approval and delivering the brief in person are just some best practices.

Marketing & Agency Job Swap

Mr. Strachan feels that marketers and agencies can swap roles for a period of time to fully understand each others positions. Furthermore, it is beneficial to have marketing procurement personnel with an agency background.

Agency Selection

Ms. Reiter points out that selecting the right agency for the right assignment isn't always clear, so AmEx uses an online tool. For a more strategic project or new work, she believes a principal agency should be used and for more routine, lower cost work, a more tactical agency may be preferred.

Agency Evaluation

The article suggests that agency evaluations should be two-way so that the agency can also evaluate the client and "action-planning" can address any issues. It is suggested to award high performers in some fashion.
A copy of the entire Advertising Age article is here:
http://adage.com/article/cmo-strategy/cmo-s-guide-agency-procurement/298536/