Marketing Procurement Dilemma
How to Develop Quality Relationships with Agencies and Deliver Savings at the Same Time
Procurement, as a relatively new function, is still in the process of maturing, and the marketing category can be one of the most challenging to manage. The key differentiator from other indirect categories is that there is no singular or clear specification of what we should buy (with the closest spec we may receive being an agency brief). If we buy a service (or appoint an agency), we can only realize how it performed much later, after the campaign has been launched.
In this environment, achieving spend optimization can be a tricky proposition, especially as we need to ensure that the savings we deliver are sustainable, in terms of building good relationships with your agency partners. Squeezing the agency dry of their margin generally contradicts this strategy. If you follow this type of savings, you'll likely be treated as a short-term client/opportunity by most agencies. And the reality is that short-term clients are much less likely to get the best work out of their agencies.
Let's go back to cost optimization. It's typically easy to look at current or historic agency costs, evaluate rates on the basis of some generic benchmark, renegotiate with agency and call that a win, and a "saving". However, this type of a simplistic approach doesn't really help building great relationships for the long-term, and has in many cases created hostility from the agencies towards procurement.
Let's look at how we can deliver optimization without hurting the relationship. It's best to start by looking at…
Procurement's Mission
(and How it Transposes to Practice in the Marketing Category)

It is procurement's responsibility to ensure that your organisation buys goods or services at the highest achievable quality, at the price point you're willing to pay. Even through we generally aim to achieve the balance between cost and quality, marketing services are somewhat unique. Some services are fairly well commoditized and can be bought on the basis of cost – a good example of this would be low-complexity asset adaptations or print production.
Generally speaking, marketing procurement is about buying creative outputs from agencies, and it should be looked at slightly differently. As Gerry Preece formulated some time ago – marketing spend management should be compared more to investment than expense optimization. And in my opinion, he is spot on.
The goal for any organization shouldn't be to buy inexpensively, but to enable marketing to get the most value out of their advertising budget – hence maximization of the investment your company is making into marketing. More work, better work.
Even though we talk about creativity, and that cost is not a primary objective, there's a major role any advanced marketing procurement function should play in the overall ecosystem of procurement-marketing-finance and agencies. It absolutely is procurement's role to understand how are you are investing in marketing, and helping to identify what can be optimized (or cut) without detrimental effect to your marketing strategy.
Relationship & performance management are critical steps that should accompany any cost reduction initiatives. You can only achieve sustainable delivery of the high quality services if you actively manage your agency relationship, as well as their performance (and this is same as any other category). Some of the marketing optimization activities can be very complex, and without cooperation from your agencies (and of course marketing), your initiatives are less likely to succeed and thus to deliver the best results.
Sustainable Savings - What are They?
I have mentioned ongoing sustainability is one of the key areas you should consider as part of your activity planning. Below is our view of what sustainable savings comprises:
"Sustainable savings are cost optimizations that don't negatively affect your agencies' ability to develop great marketing campaigns, assets and collateral for your organization"
Typically, you can achieve these savings by minimizing the real effort required internally or externally or by optimizing 3rd party spend. Agencies don't always welcome these types of initiatives, as it creates added complexity (even if in the short term). Therefore, it's important to engage in dialogue with your agency's senior leadership to ensure that both parties are aware of the goals and objectives of these activities.
At the end of the day, you should aim to reach the fabled win-win scenario. The "win" for you is cost reduction, without compromising the agency creative output. For the agencies, the "win" typically is increased profitability (albeit often at the expense of gross revenue), and you (the client) not seeking non-sustainable ways of saving money (such as constant agency rate reductions without changing any of your internal processes to accommodate more efficient ways of working).
Examples of Sustainable Savings Activities
Waste reduction generated by inefficient processes (both external and internal) through optimization of working methods:
Internal process optimization, including: approval processes, workflow management, asset sharing and distribution, agency selection & evaluation

Better agency resource alignment (FTE, Seniority) to the priority and importance of deliverables

Optimization of the agency engagement model - design of a clear scope of work process to minimize resource waste and to enable efficient resource planning for your agencies
3rd Party spend optimization:
Asset adaptation and distribution

Advertising production (on camera) optimization and/or decoupling

Post-production (rates, volume or vendor reductions)

Print management solutions

Low-to-medium complexity design work outsourcing
What do you think about savings in the world of marketing procurement?
Ultimately, the success of any optimization activity depends on how good your relationship is with your agencies and your marketing colleagues. If you can plan and execute an optimization activity that delivers real savings, improves ways of working and retains or improves the agency relationship, then you have fully achieved the best possible result for your organisation!
---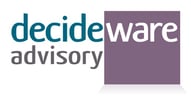 Decideware Advisory was created to help advertisers optimize their agency management practices and to improve their internal capabilities to manage agencies successfully.
www.decideware.com We're here to provide advisory services focused on finding the best solutions to your specific business issues and enabling you to achieve world-class capabilities.