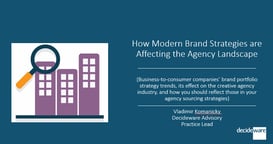 This is the first article in a series of excerpts from our paper on How Modern Brand Strategies are Affecting the Agency Landscape. The article discusses business-to-consumer companies' brand portfolio strategy trends, its effect on the creative agency industry, and how you should reflect those in your agency sourcing strategies.

Executive Summary
Today's commercial world is getting tougher and more complex for any business to operate in. To help adjust to this changing landscape Business-to-Consumer (B2C) corporate strategies have significantly evolved between 1990s and today. The key shift has been from growth and revenue strategies fuelled by diversification, to strategies that are aimed at improving focus, efficiency and optimisation.
In reviewing recent M&A activities, there are clear signs that businesses are following this optimisation-focused strategy. Some of the most iconic global consumer businesses are divesting their non-core brand portfolios, while others are strengthening theirs via focused acquisitions.
Focus, efficiency and optimisation are the buzz-words of today's corporate strategies. More complexity means more expensive supply chain systems and processes, higher retail costs and more internal costs. Complex, unfocused businesses are not well set for survival in today's world.
Consumer communication has also significantly evolved from mass media one-way "message bombardment", to a world that is defined by dialogue-driven engagement, user-generated content and multi-channel, multi-screen communications.
Creative agencies have also been significantly affected by these changes. As big businesses shed (and have acquired) established brands, this environment, as a whole, is as uncertain as it's even been. Furthermore, as the focus is moving away from TV and 30' spots being the centre of advertising strategies, to true multi-channel communications, the skillsets demanded by clients of agencies are materially changing.
At the same time, agency pitch costs are not getting lower. Agencies have, at the holding-group level, shown the desire to consolidate in order to drive similar efficiencies as their clients. They even went beyond consolidation at the agency level to larger projects, such the well-known Omnicom / Publicis merger. It was the biggest and highest profile attempt, and although it had ultimately failed, it may well be a sign of the things to come in the creative world.
Whether you're managing agency relationships in one of the large global multinationals or working for a smaller advertiser, it's vital that you understand what is happening in the market and how to adjust your approach to successfully managing your agency landscape.
Here are some key tips that are explored in more detail in the article:
Have a clear focused agency strategy in place

Evaluate your agencies' performance

Establish a solid relationship management framework with your key agencies

Ensure that your commercial relationship is well founded and fair for both parties
Ultimately, you want to get the best out of your Agencies, and this should be demonstrated through great creative that generates sales.