Yesterday, the ANA published the June issue of ANA Magazine which includes a special-section article by Richard Benyon "Surging Ahead: Getting stronger, faster, and better together. Trends and best practices for agency evaluations that build strong client-agency relationships."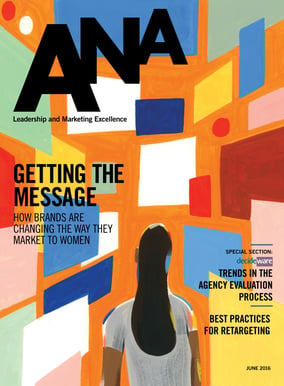 Decideware article is featured in the June issue of ANA magazine
Richard's article guides readers through agency evaluation and emerging trends that may become mainstream in 2020.
The article looks at key areas of interest and best practices for developing an agency evaluation that get results and meets company goals including:
Asking the right questions
Good data is critical to making better decisions. Designing questionnaires or scorecards can be a difficult process to ensure that you get the desired outcomes. This article outlines key principles to consider to ensure that your question set has a balance of the right number of questions to get actionable results.
Getting the timing right
Marketers have several options for how often they run their evaluations. In the article, Richard discusses the trend of an annual evaluation with a mid-year pulse check which can help lighten the administrative and survey load while in turn continuing to provide the benefits of a twice yearly evaluation.
Finding the right model
There are many options for the types of assessments that marketers can run. We have seen that the agency-on-client 360-review where the agency provides feedback on the client has been the gold standard; however, the article discusses why advertisers are trending towards a reflective self-assessment model.
Post evaluation success and action planning
Once the results of the evaluations are in and the data has been analyzed, it is time to discuss the results with the agency and implement key actions plans. Richard outlines key tips for debriefing the agency, developing strong action plans and importantly, sharing the success and results with all team members and senior leadership. With a thorough understanding of the results, advertisers can put forth actionable practices to improve their agency relationships in the future.
For a full copy of the article, please visit ANA Magazine
Please visit www.decideware.com or contact Richard Benyon at rbenyon@decideware.com for any questions or to discuss the article in greater detail.