Adopting the world's best BI tools enables Decideware to help clients optimize their agency management programs.
Over the past 12 months, Decideware has invested in business intelligence software. This BI layer makes the complex task of analyzing data and answering key business questions, a simple and quick process.
We released the BI layer after conducting interviews with clients. Through these conversations, we learned that advertisers want better methods to quickly make use of their complex agency performance data and to quickly and clearly communicate insights to marketing & procurement stakeholders. With those insights, they can make better decisions around agency resourcing and management practices to improve their marketing ROI.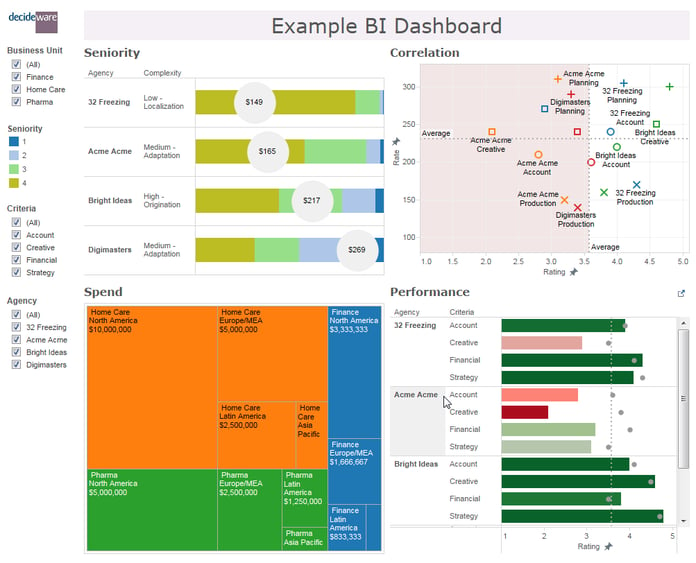 For example, if the CMO inquires about the performance of an agency in a certain geography, we can use BI to dig deeply into the data to uncover answers in real time. This eliminates the manual, time consuming methods and allows for more data inquiries and analysis.
Decideware's BI analytics can be applied to important areas of an agency management program including, for example:
We can conduct sophisticated data queries on large data sets to uncover trends and allow better action planning.

If the Marketing Procurement team wants to understand agency performance by certain geographies, or by brands, or by agencies or holding companies, we can immediately change the search parameters and quicky generate these answers.

If stakeholders want to look at the financial data generated by Decideware's Scope Manager application, they can use Decideware BI to quickly do so.
If clients want to combine data sets and determine which agencies aren't quite performing but they have significant budgets, they do that very quickly. For example, they might see an agency that has a performance rating of 2 out of 5, and have 50% of the budget. Should the agency management team act on that?
Or we can look at every single agency all around the world and see if any of them fall outside of certain parameters. For those agencies that do, is some sort of action needed?
Decideware's new BI solution offers marketing & procurement teams incredible power to understand where they can act to improve agency performance and pend efficiency – all from their desktop.